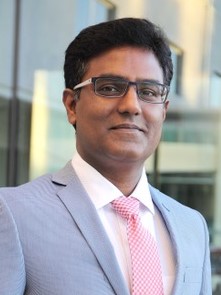 Dr Muzib Abdul-Razak
FRCSE, FRACS, MCh (Surgical Oncologist)
Specialties
Head & Neck Surgeon and Surgical Oncologist
Academic Appointments
Dr Muzib Abdul-Razak is a Consultant in the Department of Head & Neck Surgery and Surgical Oncology at Westmead Hospital. He graduated from Madras Medical College in 1995 and completed his FRCS from the Royal College of Surgeons of Edinburgh in 1999. With a passion for Surgical Oncology, he returned to India to complete his General Surgical training (DNB-General Surgery) and pursue a career in Surgical Oncology. Dr Abdul-Razak completed three years of sub-speciality training in surgical oncology and was awarded the MCh in Surgical Oncology in 2004.

Dr Abdul-Razak migrated to Australia in 2004 and was assessed by the Royal Australasian College of Surgeons and after further training and exams, was awarded FRACS in General Surgery. During that time, he spent two years as a Fellow in the Department of Head and Neck Surgery and Surgical Oncology at Westmead HospItal.

Dr Abdul-Razak specialises in:

- Head and neck oncologic resections
- Thyroid and parathyroid surgery
- Salivary gland procedures
- Advanced skin cancer including lymph node dissections.
- Melanoma (including sentinenal lymph node biopsies)
- Soft tissue tumours including sarcomas

Dr Abdul-Razak is a Clinical Lecturer in Surgery at The University of Sydney. He is an active member of the Australia & New Zealand Head and Neck Cancer Society and the Australasian Sarcoma Study Group. He is actively involved in research, pursuing his PhD from Sydney University and leads the clinical trial involving "Evaluation of Sentinel Lymph Node biopsy in Oral Cavity Carcinoma" at the Head and Neck Service, Westmead Hospital.
Hospitals Visited
Norwest Private Hospital
Sydney Adventist Hospital
Westmead Private Hospital
Westmead Public Hospital
Crown Princess Mary Cancer Centre
Chris O'Brien Lifehouse
Research Interests
- Head and Neck cancer
- Melanoma
Other Positions Held
Clinical Lecturer in Surgery, University of Sydney