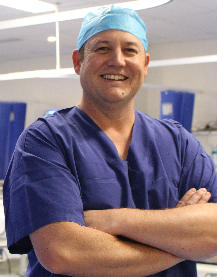 Dr Graham Meredith
MBBS, BSc (Med) Hons, FRACS
Specialties
Cardiothoracic Surgeon
Academic Appointments
Dr Meredith completed his undergraduate medical degree at the University of NSW graduating in 2006 with honours. After internship and residency, he commenced training in cardiothoracic surgery and obtained Fellowship of the Royal Australasian College of Surgeons in 2015.

During 2015 Dr Meredith completed post fellowship training at the University of Ottawa Heart Institute, Canada, concentrating on minimal access cardiac surgery for both coronary revascularisation and valve repair/replacement. During this fellowship he also completed training in trans catheter aortic valve implantation (TAVI).

Dr Meredith is currently appointed at Westmead Hospital, Blacktown Hospital, Westmead Private Hospital, Norwest Private Hospital and the SAN. His main areas of interest are adult general cardiac and thoracic surgery. His special interests are in total arterial revascularisation, minimal access coronary and valve surgery and minimal access lung resection (VATS). Other interests include TAVI, pace maker and defibrillator insertions and general thoracic oncology.
Rooms for Consultations
Hospitals Visited
Blacktown Public Hospital
Norwest Private Hospital
Sydney Adventitst Hospital
Westmead Public Hospital
Westmead Private Hospital
Research Interests
Coronary revascularisation
Thoracic Oncology
Teaching and Education